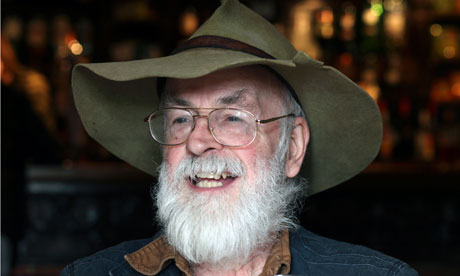 Terry Pratchett is having a statue made. It's a statue of a goddess, and he thinks she ought probably to be smoking a cigarette, and to be showing one breast. "There should be an urn, too. If there's an urn it's not porn – that's a Discworld cliché," he says, a bubble of laughter in his voice.
The goddess is one of Pratchett's own invention: Narrativia, the deity of narrative who smiles on writers (and perhaps especially sunnily on her creator). Discworld, created by Pratchett 28 years ago, is the fantasy world held up by four elephants balanced on the back of a giant turtle.
It's a concept which started out as an affectionate lampoon of the sword-and-sorcery fantasy genre, but it has, over the years, become an increasingly sophisticated swipe at contemporary society, pointing out the ridiculousness of everything from Hollywood to the postal service, newspapers, banks and football…
Visit the Guardian website to read the full article.