Terry classes Small Gods as Household Gods. Those little gods that keep things running smoothly in your home. Do you have any Small Gods taking care of you?
I have a whole bunch that live on top of my computer monitor (they need a ceremonial dusting
).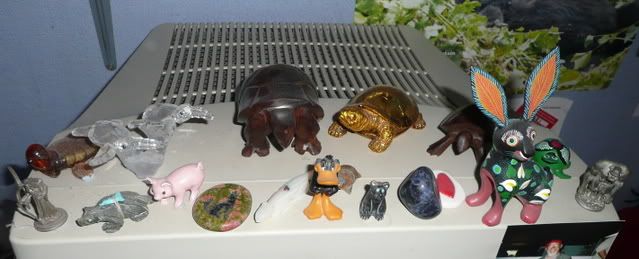 Back row:
Glass tortoise that my neighbour got me because I collect tortoises (it's horrible but I can't very well throw it away).
Two crystal Swarovski turtles. These were a wedding gift from some very good friends and are quite lovely, especially when the sunlight catches them.
Hand carved ironwood tortoise. Got this in Monument Valley on the Navajo Reservation. Ironwood (as the name suggests) is very hard and heavy.
Brass Tortoise that an Internet friend sent to me from Australia. He was the first of my collection.
Another Ironwood tortoise that Sharlene bought for me.
Nodding Mexican tortoise. Got this in a museum in Tucson. It's hand painted.
Front row:
Clarecraft pewter Death figure.
Handcarved Zuni (a Native American tribe) badger fetish with turquoise arrowhead. The Zuni are famous for carving these animal figures from various types of stone. Each one is a tiny masterpiece.
Little pink pig that an Internet friend sent me. He's just kind of cute and I like pigs.
Coyote carved onto a piece of green and orange stone. I don't know much about this except a friend sent it and it's carved by Native Americans.
Zuni mountain lion carved from yellow lipped shell.
Daffy Duck - he's been with me for years. I can't even remember where I got him from.
Zuni tortoise. Another hand carved fetish. Tortoises are for wisdom in the world of the Zuni.
Zuni bear. When you see the displays of fetishes sometimes one of them insists that you have to buy him and take him home. There's no point in argueing. That was the case with this guy.
On another board I was awarded a special "Welsh Sod" award and was sent this lovely piece of sodalite.
A little pottery heart that Sharlene sent me.
Hand carved and painted Oaxacan jackrabbit. The Oaxacans are a Mexican tribe who make these incredible wooden figures of fantastic animals. The painting skills are incredible - you might not be able to see it but there are lilies painted on there and hundreds of tiny green dots.
Clarecraft pewter Detritus - my very own Internet troll.
So who lives on or near your computer?