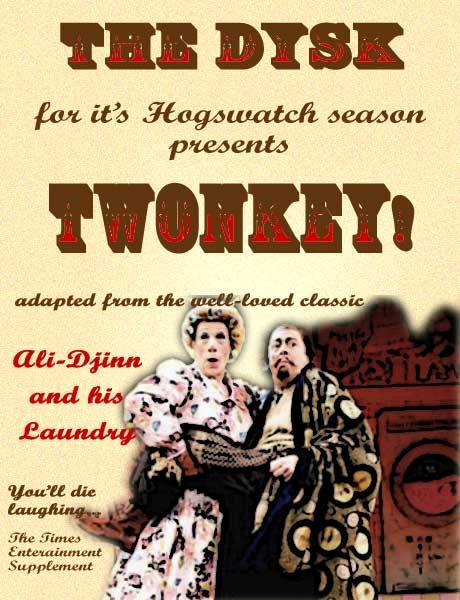 The Dysk, the famous theatre in Ankh-Morpork is currently presenting a seasonal Hogswatch burlesque comedy, based on the Tale of Ali-djin and his Laundry. The repertory company have taken on some jobbing actors to play some of the main roles, little knowing that the mysterious, nameless Agatean actor, who is playing the lead Villain's role of Azabananana, is in fact a professional hitman here with more than learning his lines on his mind...

With glowing reviews from the Ankh-Morpork Times' critic on opening night, the cast and crew went to bed with happy hearts and high spirits but as they arrive at the Dysk to get ready for the matinee performance a grisly sight meets the stage manager as he checks the stage – the star of the show Cuthbert Bumble, a renowned female impersonator playing Widow Twonkey is found in the flies very dead indeed – his elaborate Agatean wedding wig shredded and partially stuffed down his throat…

The Disc's sun slowly rises on Day 1 of the hunt as news of the first killing spreads and speculation is rife amongst the citizenry as to who is responsible for this heinous crime – and who might be the next unfortunate victim. Master Bumble's understudy is starting to look very nervous indeed…
Suspicion and anxiety falls particularly upon
Sjoerd
Bikkit
Crysania
Dotsie
poohcarrot
Morty
Doughnut Jimmy
Additional Clues and Characters (if any are deceased or otherwise disincarnate assume this all happened prior to that!)
Azabananana ~
(can escape blocking or 'protection') an anonymous Agatean (non-AM guild) assassin who poses as a jobbing 'actor' as a cover for his various contracts. He is currently appearing at the Dysk in one of the main roles. His real name is unknown to everyone except…
Wardrobe Wanda ~
his dresser and lover. Also his 'booker'. She cannot kill, but does misdirect anyone likely to interfere with her man's hits by 'entertaining' them all night so blocking their role if they have one.
As usual this contract arrangement works as a team (so are known to each other and nominate one victim per night together) but only Azabananana makes the kill, so if he is caught the townies will win.
The Watcher ~ Dorfl
may choose one surveillance target per night and watches their lodgings to see who visits them. Thus he knows who's being targeted by whom (if anyone), but not why… or where else his target might have been that night...
Jack of All Trades ~ Mr. 'Cut my own throat Dibbler'
has various one shot night phase abilities. The snag is he can only use each ability once and only one ability per night phase. He may protect someone; investigate their guilt or innocence; or block their ability if they have one; and finally he may make a vigilante killing. He may target the same person more than once but not on consecutive nights.
THE RULES
1. No arguing with the Narrator in the main thread. All queries, post mortems or requests for elaboration to be done
in the What do I do Now? support thread
or by PM if it's something you cannot discuss in public.
2. When formally voting for someone to be lynched please make this crystal clear as in
"I vote for Mr/Ms X to be lynched"
- or use block capitals etc etc.
Do the same sort of thing if you change you mind and want to vote for someone else or to abstain/withdraw your vote - remember you can vote up to 3 times if you need to change your mind during each day phase.
3. If the Narrator tells you that you have a secret role make sure you never reveal your true role to anyone (unless you're a killer in which case you will know who you're working with) unless the Narrator says you can – else you'll end lynched much quicker…
4. Try not to get too upset with what happens once the killings start - it's a fun game to play so keep it light-hearted. If you do get eliminated you can still take part as a Gawper!
5. Gawpers you may post during the Day Phases, but you may not vote for anyone
6. No posting by anyone in the main thread during a night phase – Gawpers this means you too!
NEW - 7.
The content of PM conversations other than to reveal the identity of murder and lynch victims should never be publicly disclosed, unless the player has a secret role and needs to substantiate their thread activity for some reason. The Narrator is subject to this rule as well as the players and must not reveal the outcomes of non-lethal night phase choices and activities.
Day phases:
These last up to 7 real time days to allow all the players time to post and to vote for a lynch victum. If everyone has voted early then the Narrator may close the voting early and announce the start of the…
Night phase:
These will generally last up to 48 hours to allow all 4 special roles to PM the Narrator with their decisions.

You have been warned! Please abide by the Narrator's guidance in the main and support threads.
Further information on gameplay is available
HERE in the What do I do Now? support thread
where you can post if you need to do so away from the game thread
Click here to PM Jan