TINA ! ............................ well????????????
Report in dear! We want to know how it went.
Ghost: Any hairdresser worth her salt SHOULD stroke and run her fingers through your hair. Particularly with your kind of hair. They are trying to see HOW it moves, how it will hold a style, how it might move in a different way, what it may do with or without layers. When people have stiffer hair or hair that is obviously wanting to go the way it WILL go (and you will hear these people bemoan the fact that they cant have just ANY style) it is more obvious to the hairdresser.
I had long hair when I went overseas to Europe and that was how it was on my passport. Anyone rember the permed "mushroom"????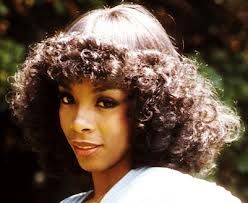 When I got there I realised it was way too big for lobing around Europe (they CHARGE for a shower????) so I had a wonderful cut done in London. Loved IT. Something this length.....
I ended up spending SO much more time getting through immigration gates than I ever expected as more than a few times the officer would look at my passport.. look at me.. look at my passport... look at me.... one time there was a heated debate between four or five of them as they took votes about which style suited me better
and of course there was the time when I finally got back to London and one of my girlfriends who lived there pointed out to me that maybe just maybe (after looking at my passport pic) it was because when I had my pic taken in a mid summer north Queensland tropic heatwave my boobtube top wasnt obvious in the pic and it looked like I had my picture taken naked.
Anyway... it was SO freeing being able to enjoy my holiday without ever giving a thought to my hair
A few years later Idecided to do it again (the short haircut) and took a pic from my Europeon holiday to show them what I wanted. They DID cut it similar but it never sat quite the right way like the first haircut. So even thought short can be stunning it still needs to be cut perfectly.
Talking about haircuts...... my oldest daughter Truly... the tall one with thick glorious hair down past her waist? is talking about having it shaved off!!!!
She wont just do it willy-nilly... she will use it to raise money for the "Shave for a cure" cancer day which is big here (you see ALOT of bald men and women at that time so noone would look sideways)... and since she has never coloured any of it but the last five or six inches she can sell it for a fortune on the hair market. But still.....