Personal stats
Real First Name:
Age: 28
Gender: Female
Location: Wales
Birthday: 06/09/80
Occupation/Former occupation(s): Uemployable
Hobbies: Reading, writing, cooking, photoshopping, cooking, and knitting
Things you love: My parents, my cats, my dog, chocolate, freshly baked bread, and bed
Pet Peeves: Getting up in the morning, injustice, racism, peodophilia, big dogs, and rats
Insert piccies of you here!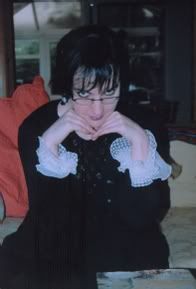 Comments about your picture(s): Me with Sylvestor McCoy: Me with new hair cut
Discworld and Pterry favourites list (you can have more than 1 if you want!)
Book:Wyrd Sisters, Thud! Moving Pictures, The Truth
Favourite passage: 'Witches Don't know the meaning of the word failure.' 'Esme?' 'What?' 'It means lack of success!'
Character: Granny Weatherwax, Magrat, Death, and Sam Vimes
Song: The Hedgehog Song
Pterry Quote: The one about JK Rowling.
Quote from a book:'I can do next Tueday!'
Place in the books: Jeremy's workshop.
Your personal favourites (you can have more than 1 if you want!)
Colour: Purple, Green, Black and Silver
Food:Chocolate, chicken, chips, cake, rice, pasta, tomato... I'm a bit of a glutton.
Beverage: Earl grey tea, morning cup of coffee, Baileys, and cocoa
Flower: Arum lilies
Season: Summer
Book: Wind in the Willows, Rebekah, Tale of Two Cities
Movie: Robin Hood: Prince of Theives: Schindlers List.
Actor or Actress: Alan Rickman, Jason Isaacs, Jeremy Irons, David Jason, Maggie Smith, Judi Dench, Julie Walters
TV Show: NCIS, Friends, QI, Allo Allo, Only Fools and Horses, Porridge, Dr. Who
DVD or Video (Blue Ray – whatever): Allo Allo, Robin Hood: Prince of Thieves
CD: Dark Passion Play, Star Wars soundtrack.
Singer/Band: Nightwish, Pink Floyd, Monkees, Sonata Arctica, Evanescence, Classical music, and film scores.
Song: Everything I do, (I do it for you!)
Fast Food Restaurant: MacDonalds
Board Game: Hard pushed Scrabble
Computer Game: None
Musical Instrument: Violin
Cologne or Perfume: Tresor a Kate Winslet perfume
Things to do at the Weekend: Um, write.
Vacation Location: Dream holiday would be Tuscany somewhere hot to help my aching muscles
Word or Phrase: Iridescence
Sport/athlete: None
Favorite quote: 'Ca ncel kitchen scraps for lepers and orphans, no more merciful beheadings – and call of Christmas!'
Additional comments: I love to laugh!
Your Profile/Adopted Character Info
Name and nickname: Magrat Garlick – because I am a bit like her, rather bookish and love to see the pretty side of life and have weird hair
Joined the forum on: Thursday 19th
Favorite posting place on the Forum: Everywhere but possibly going to be Your Writings thread
Why did you choose that name/character?: She's my favourite
What made you register on this forum?: I wanted to talk to fellow Pratchett fans and found it whilst Googling Terry Pratchett.
Tell us your 'what if's'
If you could be anyone/thing in one of the novels who/what would you be?: Sergeant Angua despite her taste in men
If you lived in Ankh-Morpork which trade/guild would you want to join?: Guild of Assasins
If you could go on a date with a character who would it be?: Sam Vimes (sorry Carrot) or even Rincewind
If you were deputising for Death, whose soul would you most like to take – and why? Hmm, tough one as I hate to be nasty but --- well, Adolf Hitler, he deserved it, as did his cronies and anyone else that is as despotic. In the Pratchett verse, possibly Vetinari just to see the effect that would have!