It's six years ago today since Sharlene (swreader) and I got married in Tucson.
As many of you know, we met through our love of Terry Pratchett books. Sharlene owned a bookshop at the time and therefore got an advance copy of Hat Full of Sky. She read it, loved it but didn't have anyone to talk to about it as nobody on the board we were on had read it either.
And then one day, about two weeks before the release date, I was walking around the big Tesco store in Cardiff and noticed that they had put the books out way before the release date. I grabbed a copy, read it, loved it and then wrote a PM to the only person I knew that had also read it - Sharlene.
That was in 2004. We wrote to each other daily and in 2006 I went to Tucson to visit. The following year we exchanged vows in an informal ceremony in front of friends (we are not officially married, but as far as we are concerned, we most definitely are).
So Terry Pratchett was Cupid and Hat Full of Sky (always a special book to the two of us) was the arrow.
Happy Sixth Anniversary Cariad!
I wish I was there with you to celebrate, but thank the gods for Skype!
That's Catch Up with the video camera. She and her mom made the trip to the wedding.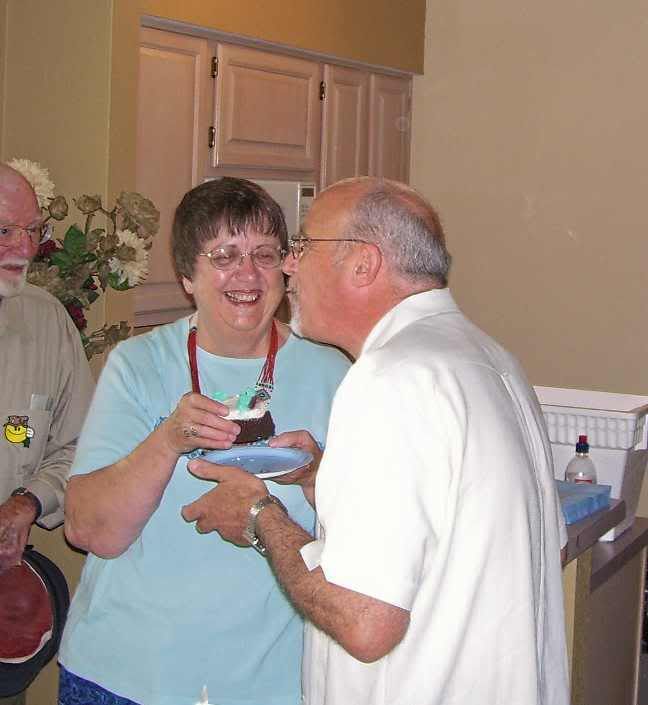 Me being fed chocolate cake by Sharlene.
The wedding rings, which we got on the Hopi Indian Reservation from the silversmith guild. We went on our honeymoon before the wedding.